Production of Sangatsu『ENSO Ⅰ』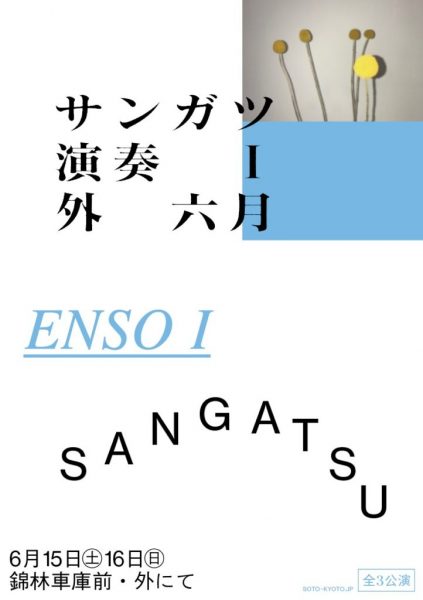 "Sangatsu" did its live performed in Shibuya, Tokyo in January after some hiatus.
They will be doing a live performance in "Soto", a live-house in Kyoto this time.
Art Production Department will be in charge of production!
It will be their performance after 8 years in Kyoto.
For those who live nearby, or are visiting Kyoto, and of course, those who are coming from far, do come by!
"Soto" is a charming live-house run by a band Kukangendai.
7 members will be performing to provide you a rich space and time to enjoy.
Tickets now on sale!
Sangatsu『ENSO I』
6/15(Sat.)    open 18:30 / start 19:00
6/16(Sun.)Noon open 14:30 / start 15:00
6/16(Sun.)Night open 18:30 / start 19:00
adv.3,000JPY door.3,500JPY
*Price with student ID for both reservation or on-day ticket: 2,500JPY
http://soto-kyoto.jp/event/190615-16/
—————————————————-
4 drums, 2 guitars, 1 base.
Or perhaps,
just 7 flesh in its existence.
Sangatsu started as a double drum instrumental band. After focusing on the shape and movement of sound by removing the melody and rhythm, it is now taking on a new challenge.
Freeing music from its privilege to create sound ー they are trying to re-establish musical grammar, standing in a playground setting.
The Kyoto live after 8 years; they will perform all out for that day, with additions of new songs.
Something you definitely cannot miss!