『Sangatsu@WWW』―Production and planning of live performance

Long time, Tokyo.
4 drums, 2 guitars and 1 base.
New live performance in Tokyo after 5 years by a 7-piece band 21 years since formed.
Welcome, now, to the current location of Sangatsu, a band which had been performing around the world.
23rd Jan. 2019, there will be a live performance in Tokyo 5 years since the last time by Sangatsu, a band which formed 21 years ago.
TASKO Art Production Department will be in charge of this performance and event production.
Sangatsu started out its overseas performance in June 2013 at Penghao Theatre, Pekin. Germany, Korean, Taiwan, Shanghai, Pekin, and many other overseas live-houses, theatres and museums. They have been doing activities beyond the bounds of band performance; they did a workshop of music performance by a non-musician, program that combines tour performance and workshop and more open forms of music. This live performance showcases the collective thoughts and experiences which they build upon "Things that make up music and people".
What kind of experience will it be with a band consisting of 4 drummers, 2 guitarists and 1 bassist?
Please come visit!
Date|23rd Jan. 2019 (Wed.)  Open 19:00 / Start 20:00
Venue|WWW
〒150-0042 RISE Bldg,13-17 Udagawa, Shibuya, Tokyo 
150-0041 JAPAN   03-5458-7685
https://www-shibuya.jp/schedule/009653.php
Price|Pre-sale ¥4,000 / On-day ¥4,500 (tax-inclusive / All-standing / Separate drink charges)

Tickets Sold Here!
▶Ticket Pia  [P: 136-147]
http://t.pia.jp/ ※Reservation by phone also possible: 0570-02-9999
▶Lawson Ticket [L: 76073]
http://l-tike.com/
▶e+ http://sort.eplus.jp/sys/T1U14P0010843P006001P002279424P0030001
Contact|WWW 03-5458-7685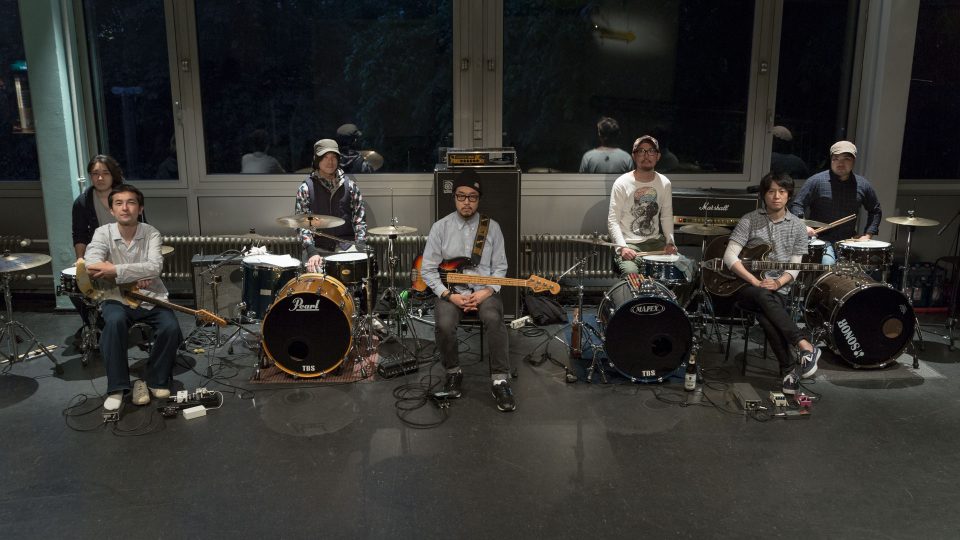 Sangatsu
Formed in 1997 in Tokyo. Creates music focusing on the shapes and motion of sound. Debuted with Sangatsu produced by Jim O'Rourke and released Nami (the soundtrack of the film directed by Hiroshi Okuhara), Still Life and the latest album 5 Compositions in 2010. Launched a project called "Catch & Throw" to build an online platform where anonymous "sound is delivered" through collective work and to present the processes as pieces. Declared that they would renounce the copyrights of their future pieces in January 2012.
They have produced numerous musical performance works that make use of their locations and the performers' bodies, which have been shown in places such as Beijing, Berlin, Seoul, and Taipei. They have also collaborated frequently with performers from other genres, including Hikaru Fujii and the theater company chelfitsch. In January 2012, they declared that they would waive their copyright in all music released from then on, as part of their inquiry into how music should be in a post-capitalist society.
http://sangatsu.com/ >>>The website was renewed!