We worked on the production of "Hige-hakase and nonsense★machine" in Kita-ward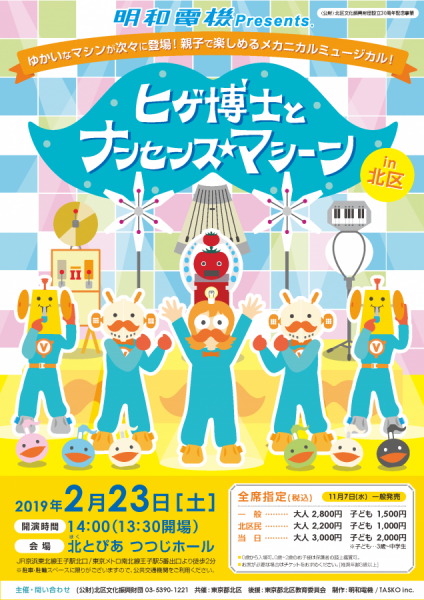 It's about time this year too!
Meywa Denki presents mechanical musical which can be enjoyed together with children.
『Hige-hakase and nonsense★machine』
We will be doing the production starting from 2019 in Kita-ward.
TASKO will be fully supporting Meywa Denki this year around too!
We will be looking forward to your visit.

Date: 23rd Feb. (Sat.) Hall opens at 13:30 pm,  Performance starts at 14:00 om
Venue: Hokutopia Tsutsuji Hall (1-11, 1-chome, Oji, Kita-ward, Tokyo)
All seat reservation only. 
※All tickets SOLD OUT!
Price:【Normal】Adult 2,800 JPY(On-day ticket 3,000 JPY)Children 1,500 JPY(On-day ticket 2,000 JPY)
【Members Discount】Adult 2,200 JPY Children 1,000 JPY
【Kita-ward-residence Discount】Adult 2,200 JPY Children 1,000 JPY
※The residence of Kita-ward, Tokyo, can purchase the tickets at a discounted price. (Up to 4 tickets per person). Sales at a discounted price available only at Hokutopia 1st floor ticket counter. Please provide a proof of residence in Kita-ward (driving license, insurance card, etc. )
※Childcare service is available. (preschool children above 2 years old, 2,000JPY per child). 
※Entree allowed from 0 year old. Children below 2 years of age will be free if they sit on their guardian/parent's lap. (Recommended age 3 years old or above)

Event Details> https://kitabunka.or.jp/event/1588/