"Blooming Passage" at Jewel Changi Airport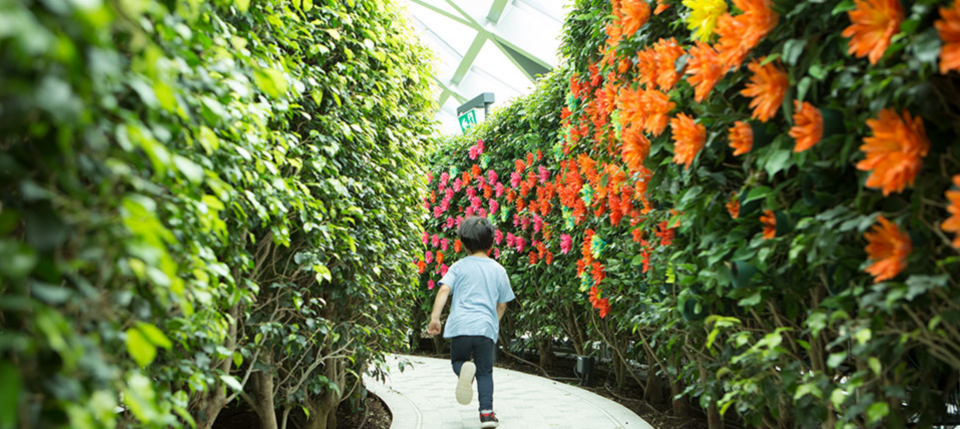 A work by TASKO's Engineering Production Department is displayed at the newly opened "Jewel Changi Airport" in Singapore Changi Airport.
In the "Blooming Passage", colorful flowers bloom as a person passes by. TASKO worked on the engineering design and production of the mechanics of the blossoming flowers.
【CREDITS】
Client: JEWEL CHANGI AIRPORT DEVT PTE. LTD.
Creative Agency/Production: Whatever Inc.
Idea: Kyosuke Taniguchi
Executive Producer: Yusuke Tominaga
Producer: Shinnya Fujiwara
Business Producer: Keiko Oda
Creative Director: Kyosuke Taniguchi
Art Director/Designer: Taichi Ito
Programmer: Tatsuya Kida
Business Producer(Singapore representative): Akiyasu Takaseki(FUTUREK SG PTE LTD)

Technical Director: Masataka Kimura (TASKO inc.)
System design/Design Engineer: Tatsuo Hayashi (TASKO inc.)
Design Engineer: Masaki Sato (TASKO inc.)
Production Manager,Design Engineer: Kayo Watanabe (TASKO inc.)
Assistant Production Manager: Wang Jingyi (TASKO inc.)
Device Engineer: Ryota Okiyama (TASKO inc.)
Device Engineer: Kanta Horio (Ponoor Experiments Inc.)
Flower Design: Takeo Kitazawa (TASKO inc.)
Flower Design: Sayaka Imaizumi (MY'S)
3D Designer: Takuma Sakagawa (riversault)
Assistant Engineer: Yui Nakamura (TASKO inc.)
Assistant Engineer: Ryoichi Sakata (TASKO inc.)
Assistant Engineer: Ryo Inomata (TASKO inc.)
Assistant Engineer: Tsunehiko Sasada (TASKO inc.)
Assistant Engineer: Kenta Suzuki (TASKO inc.)
Assistant Engineer: Masaru Tabei  (TASKO inc.)
Assistant Engineer: Soma Nagahara (TASKO inc.)
Assistant Engineer: Kohei Tone (TASKO inc.)
Assistant Engineer: Marika Sato (TASKO inc.)
Assistant Engineer: Ami Takahashi (TASKO inc.)
Assistant Engineer: Azumi Kutsuwa (TASKO inc.)
Assistant Engineer: Kazuhiro Koshiba (KOSHIBA SHOKUDO)
Assistant Engineer: Yusuke Ide (TASKO inc.)
Artificial flower production cooperation: MakerNet Technology Co.,Ltd